---
SPIRITUAL REUNION OF ELDER TOLENTINO & BROTHER CAMPORAZO AFTER 30 YEARS
by Gil Camporazo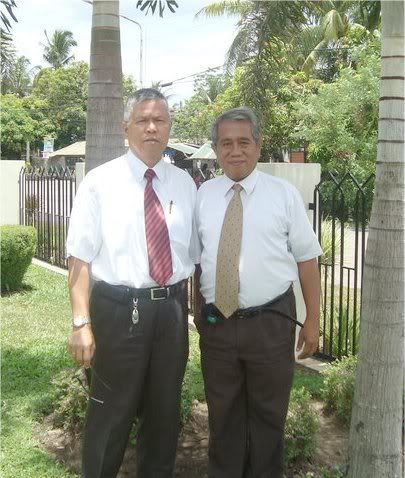 Elder Tolentino & Brother Camporazo
April 18, 2010, Sunday, two days before my 30th baptism anniversary, Elder Arturo Tolentino and I met each other again in the meetinghouse of The Church of Jesus Christ of Latter-day Saints, La Carlota City. Elder Tolentino was assigned before in La Carlota Branch in 1980 as a full-time missionary and he baptized me in April 20 and later completed his mission in August 21 and went home. It was a momentous spiritual experience for both of us.
Now as a released full-time missionary, Bro. Tolentino paid a visit to our place, bringing along with him his beloved wife Juliet and son Allen Joshua, and a couple of his intimate friends who are members from his ward back home in Quirino 2nd Ward, Quezon City.
I couldn't help myself to be emotional on that occasion. I gave talk at the Sacrament meeting of La Carlota 2nd Branch as a visiting high council member. I focused my talk on the importance of a family. Earlier in our Sunday school class conducted by Brother Karl Agreda, the lesson was about Abraham as a Man of Faith and a Father of all nations and Abraham's great faith when he was asked by the Lord to offer his son Isaac as sacrifice. But as an introduction to that lesson, Karl asked everyone to share what he value so much in his life. Everyone contributed. Bro. Tolentino in his part valued family so much and he expounded it a bit.
Arturo, Juliet, Rebecca & Gilbor
I did agree with Bro. Tolentino that family is very important in our life especially when we work on our salvation. However as I went along I took time to greet Bulaklak (Shanley Jane), one of our granddaughters, who celebrated her 6th birthday that day and then acknowledged the humble presence of Bro. Tolentino, his wife Juliet, his son Allen Joshua and his friends. I related how my family grew spiritually when we became member of the Church in 1980.
As a gesture of gratefulness to Bro. Tolentino who did a mighty work in converting me and my wife Rebing to the true and living Church of Jesus Christ, I read portion from my journal entries on how Elder Tolentino influenced me when I was in trouble in a family home evening we had at the house of Sister Alcantara two months after my baptism. At the moment, I got a stupor of thought and got confused because of pride and haughtiness of heart. But humble as he was, Elder Tolentino pacified me and made me spiritually sober. Upon hearing Elder Tolentino's soft voice, I realized then the importance of a person who cares for a troubled one, who is meek, humble and with a pure love in his heart. I figured it out from the personal attributes of Elder Tolentino.
I had made up my mind that Elder Tolentino is really my "shepherd" who cares for me when I'm in trouble, who finds me when I'm lost, and who helps me when I'm in distress. Upon learning that Elder Tolentino will be going home by August 21, I wrote an epistle on how I highly esteem Elder Tolentino as a token of gratefulness to him. Thus on August 13, I wrote: "ARTURO A. TOLENTINO: Thou Art a Shepherd" and gave it to him after a branch farewell party tendered by the members.
Before our Sunday meeting, he already visited our home Tuesday, April 13 with his company. I showed him the original copy of the said epistle. For our second meeting Sunday at the Priesthood class of La Carlota 2nd branch, I let him sign the original copy.
I couldn't fathom my happiness at that moment when we're reunited and met with his own humble family: a wife who is so very supportive, caring and loving, and a son who is humble, teachable. At the end of such meeting, we took pictures for posterity and for a long-lasting souvenir of our wonderful friendship and membership with The Church of Jesus Christ of Latter-day Saints as a family.