---
MISSIONARY WORK:
Divine Appointment
by Gil Camporazo
Executive Secretary, La Carlota Philippines District
"Missionary work is the lifeblood of the Church and the lifesaving blessing to all who accept its message," points out Elder Ronald A. Rasband of the Seventy in his message, "The Divine Call of a Missionary." The Lord extended those calls to humble men so that through them others would hear the truths of His gospel and come unto Him, qualified Elder Rasband. (Ensign, May 2010, pp. 51-53)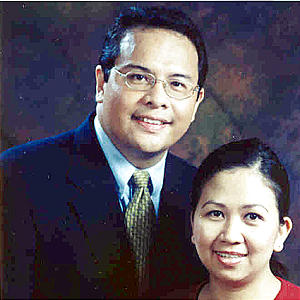 President Revillo & wife
Our youngest son, Gilbor D. Camporazo, Jr. is one of those "humble men" who obeyed the Lord's command "to preach repentance; and to seek out those who will hear the truth." and he was assigned to Butuan Philippines Mission. But we're apprehensive then for his mission assignment in Mindanao, which believed to be of "trouble-infested place" and more so that we're not familiar with Butuan. But when we received a letter from President Charlie Revillo, his mission president saying that: "Elder Gilbor Demabildo Camporazo, Jr. has safely arrived in Philippines Butuan Mission to commence his 24 months of full-time missionary service." Our apprehensions subsided. We're all happy that our son is "in good hands."
Time runs fast. Our missionary son will be completing his 2-year mission by October 2010 and likewise President Revillo and his wife will be completing their mission too by July 2010. Well, I begin to contemplate on the importance of missionary work more particularly exemplified by the couple, Elder Revillo and his wife, Pierne.
For me, missionary work is a "divine appointment" for the couples, President Charlie Garcia Revillo, the mission president of Philippines Butuan Mission and his wife Sister Revillo. President Revillo has several Church callings before he went out in a mission like counselor in a stake presidency of Dagupan Stake, stake mission president, stake Young Men president, counselor in a bishopric. He had been a missionary in the Philippines Bacolod Mission. He was also an Institute director and CES coordinator. His parents Carlos Condeno and Amparo Garcia Revillo, I know, are very proud of him. He married Pierne Me Penuliar Parayno, and got five children.
While his supporting wife, Sister Revillo is a former stake and ward Relief Society president, ward Primary president and counselor, stake music director and stake music chairman. She's born in Dagupan, Philippines, to Bayani Bautista and Gloria Penuliar Parayno.
"President Revillo is our Father in the mission. He interviews us always about our spiritual condition and gives spiritual prescriptions when we are sick spiritually. He has also a huge sense of humor that can relieve our stresses," relays Elder Camporazo thru an email.
In our recent meeting in La Carlota District Center, President Ramon Nobleza, one of President Revillo's close members in Binalbagan, who is now a counselor of Bacolod Philippines Mission relayed to me how Elder Revillo valued missionary work when he was serving at Bacolod Philippines Mission sometime in 1996. Elder Revillo's spirituality is great. He has the "sacrifice and the genuineness" of working in the vineyard of the Lord. And for Elder Revillo, missionary work is "the most worth" individual duty.
As what Elder Rasband cited in his message the Whitmer's brothers: John and Peter received a testimony as to the genuineness of the work. Then they became deeply concerned over the matter of their individual duty as "the most worth" for them. The Lord has this to say: "And now, behold I say unto you, that the thing which will be of the most worth unto you will be to declare repentance unto this people, that you may bring souls unto me, that you may rest with them in the kingdom of my Father."
Posted 25 June 2010


Leaving a comment? Please indicate this article. Thanks. The Administrator