Elder Malig: Missionary Work is Hard Work and Priceless!
by Gil Camporazo
La Carlota District Media Specialist
Elder Malig with Bro. Gilbor Camporazo, Jr. out proselyting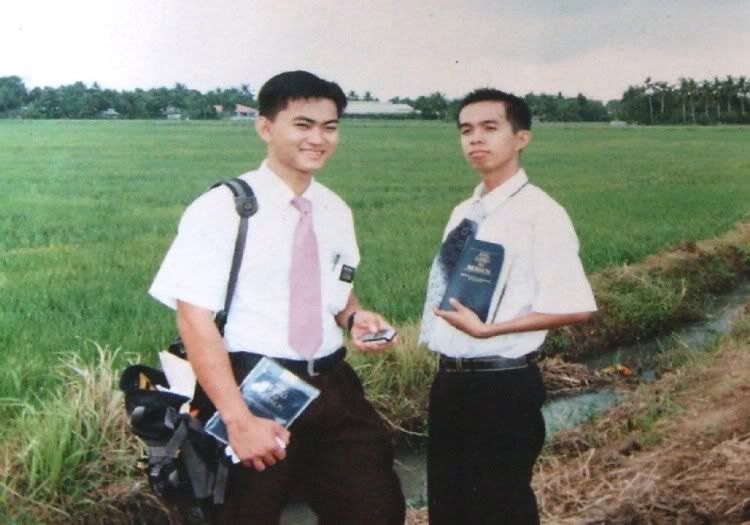 Missionary work is no ordinary work. It is a work in which you dedicate all your efforts, time, talents and everything to the Lord. It is a divine calling to work on the vineyard of the Lord, to find His lost sheep back to His fold.

This is the common knowledge among the missionaries of The Church of Jesus Christ of Latter-day Saints. Elder Mark Anthony C. Malig of Pampanga, Philippines is one of those faithful member of the Church, who went on a mission and eventually was assigned here in Western Visayas.

Comes Tuesday, January 22 Elder Malig will accomplish his 2-year mission in which La Carlota Philippines Stake area is last area.

Elder Malig is well-esteemed by his fellow missionary and the saints (members) of the Church.

"Elder, thank you for all the things that I've learned [from you]. Sadya gid ang zone naton. PRICELESS!" wrote Elder Arvin "Ajo" Despuig in Elder Malig's book of remembrance.

"Well every story has an ending. Your mission is soon to be over. You really did your very best. You are an example of the believers. Your examples are greatly shown by [your] action. Just remember the greatest treasure om heaven is character and the greatest measure of true success in mission is how closely you become more like our Savior, Jesus Christ," added Elder Melchior L. Manosig.

"Thankful man ako na naging zone leader kita dito sa La Carlota. Damo gid ako natun-an sa imo lalo na sa pagkuha (paglab-ot) sang goal," related Elder Ramacula.

"A missionary is like a pencil. Everything you do will always leave a mark. You may always correct (erase) any mistake (repentance). The most important part is what is on the inside. You will undergo some painful sharpening which will make you more usable (a better missionary). Most important to be the best you can be [by] allowing yourself to be held and guided by the hand [of the person] who holds you," analogized Elder Cyrel John F. Gutlay of Sorsogon.

"Good things come to an end and thank you for being a nice ZONE LEADER in La Carlota... Your mission is your liahona for 2 years of diligence, hard work and endurance," pointed out Elder Nachor of Agusan del Sur.

"I know nga damu2x gd imuh gnhmu pra sa amon: 1. xa pgbulig muh za amun branch; 2. xa pgreport muh xa amun; 3. xa pgbulig muh xa pgprepare para xa amun YW anniversary; 4. xa imung mga Jokezzzz," wrote Sister Larene S. Dioma of Branch 2, La Carlota.

"Ikaw ang perfect companion na pwedeng magpatay sakon... Cge – wala nang damong salita.. Kita kits nalang sa Luzon. Lab yu Bro! Salamat sa tanan!" mused Elder Shared Kish B. San Jose of Caloocan.

"Naka tatak kana sa aming puso forever," addressed Bro. Myco Memes of La Carlota 1st Branch.

"Kamo lang ang missionary na naging friend namon... Thank you gd sa mga jokes mo," expressed Sister Quincy Ann Yu of La Carlota 2nd branch.

"Once you've been a 'FTM' (full-time missionary), you'll never forget your hard work on your hands forever," reminded Brother Gilbor Camporazo, Jr of La Carlota 1st branch.


Leaving a comment? Please indicate this article. Thanks. The Administrator